Workplace Discrimination Claim Attorneys
Get a FREE Consultation from Our Woodland Hills Employment Law Firm -
(818) 918-5522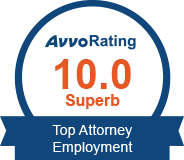 Do you believe that you have been discriminated against in the workplace? Employers that allow discrimination to play a factor in company policies and management decisions are in violation of the law. In these instances, affected employees often have the grounds to seek relief for the financial or emotional hardships they have sustained due to this wrongdoing.
Why Call Our Employment Discrimination Attorneys?
20+ Years of Legal Experience
Tens of Millions of Dollars Recovered on Clients' Behalves
Over 360 Five-Star Reviews on Yelp, Google & Avvo
No Fees or Costs Unless We Recover Money for You
At the Law Office of Payab & Associates, we have more than two decades of experience dealing with employment law matters—including countless discrimination claims. We know the challenges these claimants face in the pursuit of holding these employers accountable and what it takes to secure results on their behalf. If you have been discriminated against in the workplace, our firm is ready to hear your story.
Call our office at (818) 918-5522 today to start exploring your discrimination claim options with our team.
Forms of Workplace Discrimination
Under the law, employers are prohibited from discriminating against employees for reasons that do not pertain to an employee's performance or the greater well-being of the company. Too often, however, employees are fired, denied raises and promotions, or suffer other types of discrimination because of other, inappropriate reasons.
Workplace discrimination can include discrimination against an employee's:
Nationality
Race
Gender
Age
Religion
Disability
Pregnancy
If you believe that your employer made a decision that negatively affected you due to any of the reasons listed above, our firm is ready to speak with you. The Law Office of Payab & Associates is well-versed in the tactics these employers use to conceal their discrimination and how to make their wrongdoing abundantly clear both in and outside the courtroom.
We're ready to stand with you during this difficult time. Contact us at (818) 918-5522 or online to request a free consultation with our Woodland Hills employment law attorneys.