WHAT CONSTITUTES UNACCEPTABLE HARASSMENT AT WORK?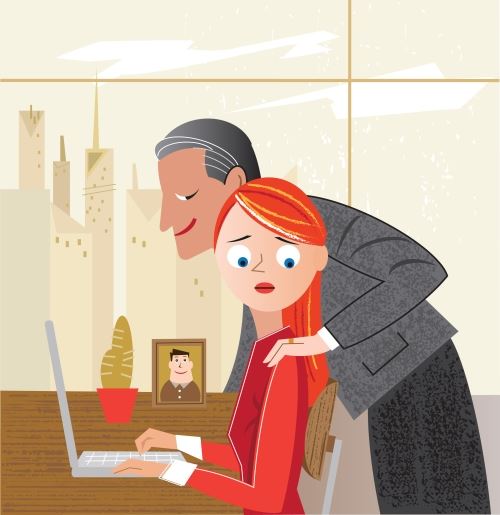 Here is a list of 16 examples of harassing behavior:
• Unwelcome or inappropriate touch, such as patting, pinching, or brushing against someone
• Mimicking or making fun of someone's accent, disability, diction, gestures, or manner of speech or religious, racial, or ethnic attire or dress
• Sexual flirtations, bantering, etc.
• Sexually suggestive conversations, comments, questions, stories
• Racial, ethnic, or religious jokes or jokes that belittle or stereotype any other protected group
• Obscene, sexual, or suggestive materials, cartoons, objects, photos, etc.
• Hate symbols, such as a noose, a swastika, or a KKK symbol
• Nicknames that relate to any protected group, such as "Grandpa"
• Linking employment decisions or benefits to a subordinate's submission or refusal to submit to sexual advances
• Questions or comments about an employee's actual or perceived sexual orientation
• Asking for sex and other sexual advances or propositions
• Sexual or suggestive jokes
• Sexual or physical assault
• Hate slurs that relate to any protected group, such as the "N" word and the "C" word
• Stereotyping comments, such as "you don't sound …"
• Other inappropriate or unprofessional conduct that relates to or is directed at a protected group
Who Can Be Held Liable for Harassment at Work?
Not only is the employer liable but also managers and supervisors may be personally liable.
Read More: http://goo.gl/bO5sFj
The Law Offices of Payab & Associates is a Los Angeles based law firm with more than 17 years of experience in sexual harassment cases. Our office has successfully litigated many complex disputes including wrongful termination, sexual harassment, racial discrimination, wage and labor disputes, and retaliation cases.
Posted By
Law Offices of Payab & Associates
Categories: